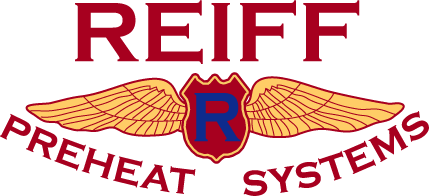 "Long Engine Life Starts With Reiff"
Main Page | Place an Order | Contact Us | FAQ
---
Technical Data and
Magazine articles about preheating and winter flying
---
Technical Data
---

Magazine articles about preheating and winter flying

"ln Search of Optimal Preheating - Part 1, 2 and 3" by Ken Sutton, The Twin Cessna Flyer

Note - this is a very well done and informative series. There is just one minor critism we had... following is part of a letter Bob Reiff sent to the Editor regarding Part 1, which stated that the "Kennon cowl cover allowed the Reiff engine heater to warm my right engine 15% higher than the uncovered left engine":

"It is technically not correct to state temperature differences as %, unless you are using the Kelvin scale. It is incorrect to say 141F is X% warmer than 115F, or that 141F is "within 10%" of 155F, because 0 is not the bottom of the F scale. He should just state the differences in terms of degrees F and leave it at that. Alternatively, it would be accurate to state the percentage difference in the temperature RISE above ambient on the two engines. For example, in his test the left engine (with no cover) rose from 65F ambient to 115F in 7.5 hrs, and the right engine (with the cover) rose from 65 to 141F over the same period. That's a RISE of 50F on the left and 76F on the right. So the cover resulted in a 52% greater temperature rise (76/50 = 1.52). Don't mean to be picky, just wanted to point out that the difference the cover makes is actually much greater than the 15% Ken indicated.

One final point. Note the graph in the article shows the lines still climbing at 7.5 hours, when the test was discontinued. Our testing has shown that the engine temp will continue rising for about 12 hours after the preheat system is plugged in. If you want to get the engine as "happy" as possible, i.e. as close as possible to its operating temperature, leave the preheat system plugged in for 12 hours."
Main Page | Place an Order | Contact Us | FAQ
Last updated 10/30/2017