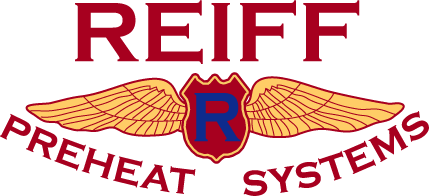 "Long Engine Life Starts With Reiff"
Main Page | Place an Order | Contact Us | FAQ
---
The best preheat system deserves the best warranty.
Ours: 5 years, "No-fault", No BS warranty

Other Brand: 3 years, "If it's your fault it's not covered" warranty.
Our Warranty
"Buy It & Try It" No-Risk Trial Period. Install it, try it, and if you are unsatisfied for any reason, send it back within 30 days of purchase.

Up to 5 years after purchase we will replace or repair any part that fails for any reason.
Applies to preheat systems purchased after 7/1/2010 for aircraft use. Other products are warranted by their manufacturer.

Proof of purchase date required

Compare ours with the other brand's warranty:
Edited only to remove the company's name, and to add our comments [in red like this]

Other Brand's Warranty Policy

This component (model and serial number indicated below) is conditionally guaranteed to be free from defect in material and workmanship for three years from date of purchase [and it was originally only ONE year until we entered the market with our better warranty]. If any defect in materials or workmanship causes or contributes to this component not functioning properly, [we] will honor the warranty in the following manner:

Contact [us] and provide information regarding the componentís failure to perform.
Provide the part number and serial number of the product.

[We] will replace the defective part or parts, but will not be responsible for removal or reinstallation of said part or parts.

Conditions of the warranty:

Part must be properly installed and signed off by a licensed A&P or equivalent.[in other words, no warranty coverage applies for homebuilders and other do-it-yourselfers]
It cannot have been altered, converted, modified, repaired, neglected or used in any way not recommended by [us] [in other words, if there is any way they can blame you for the failure, they can deny warranty coverage]
Damage to component caused by improper installation or removal from aircraft is expressly not covered by this warranty. [in other words, if there is any way they can blame you for the failure, they can deny warranty coverage]
Warranty card must have been properly completed and signed by purchaser and installing mechanic within 60 days of the date of purchase. [in other words, better get the system installed quickly, and don't forget to send the registration card in]
Which warranty is the most customer friendly?

We don't like the idea of arguing with customers about whether it was their fault the product failed. So we don't.

Who do you think has the most confidence in their product?

The reason we give such a broad warranty is because we can afford to... we are confident we will not have to replace very many! And the cost of replacing those few heaters is less than the cost of us having to administer a more complicated, restrictive warranty policy like our competitor's. Besides, we don't have the room or the time to file a couple thousand warranty registration cards per year!

Which do you think is the best choice for homebuilders and other do-it-yourselfers?

We are homebuilders ourselves ( RV-4 ). We figure if you can build an airplane we can trust you to install our preheat system and we are not going to require you to pay an A&P to do it.
---
Main Page | Place an Order | Contact Us | FAQ
Last updated 6/9/2014