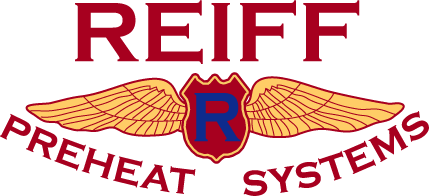 "Long Engine Life Starts With Reiff"
Main Page | Place an Order | Contact Us | FAQ
---
HotBand Cylinder Heater System
U.S. Patent 6,232,577
FAA-PMA Approved
HotBand System

50 watt band heaters clamp around the cylinders.

There is no oil sump heater.

System may be used alone or with any pre-existing oil sump heater.

HotBand XP System is the same as above except uses 100 watt elements
FEATURES
Innovative hose clamp style band heater is clamped around the non-finned portion of each cylinder to distribute the heat gently and evenly all around the cylinder. This is an advantage over probe type heaters that concentrate the heat source at a single point in the cylinder head. Lycoming's VP of Engineering says "It is preferable to distribute the heat over a large area to reduce thermal stress".
Does not interfere with the use of a cylinder head temperature (CHT) gauge, electronic engine analyzer, or Lasar system as the other brand does. Their cylinder heater is a probe that screws into the holes in the cylinder heads that are intended for CHT thermocouple sensors. That means any cylinders with CHT probes installed cannot be heated, unless you buy their optional rocker cover gasket type heaters or heater/thermocouple elements at an additional cost of $135 - $170 per cylinder. The dual-purpose elements or the optional sparkplug washer type thermocouples may also affect the accuracy of your electronic engine analyzer and void the warranty. At least one major manufacturer does not approve the use of the dual purpose elements, saying "transient voltage or failure may fry the engine monitor."
May be used with any oil sump heater.
HotStrip oil sump heater(s) may be added at any time (plugs into connector on harness)
Non-invasive - does not require removal or replacement of any engine parts to install it.
No chance of oil leaks, unlike a rocker gasket heater or oil screen heater.
Wire harness mounts on the top of the engine where incoming air keeps it cool, rather than down below in close proximity to the exhaust pipes and turbos as the other brand does. This keeps the harness cooler for longer life. Even though we build it to withstand high temps by using Teflon insulated wiring and silicone coated fiberglass sleeving, keeping it cool is the best protection against heat degradation. Top mounting also simplifies installation and keeps it out of the way when doing spark plug changes. With our system, you won't need to replace any heating elements due to breaking the wires off with your sparkplug wrench.
Our wire harness is much simpler than the other brand's harness. This means your time or labor cost to install it should be less.
Band heaters install easily. Because they are thin (1/16"), they easily slide between the cylinder and the baffling. It is not necessary to remove or modify any cylinder baffles.
Band heaters can be re-used at overhaul time. Screw-in probe type elements often become seized in the CHT port and have to be drilled out (brass fitting in your aluminum cylinder head = galvanic corrosion).
Provides faster, warmer preheats and more uniform heating than an oil heater alone, because it gets more heat to the cylinders and upper crankcase than is possible using an oil heater alone.
Gives you the option of first trying an inexpensive oil sump type engine heater, and adding cylinder heaters later if more heat or faster preheating is needed.
A big advantage of our system is that it is non-invasive. All our parts are installed "on" the engine. Nothing is installed inside the engine, and you do not need to remove any OEM parts or replace any OEM parts with our parts. For example, one competitor's system replaces the OEM intake manifold bolts with their own heated bolts. These are simply hollowed out bolts with heating elements epoxied into the hollowed out core. Or they replace rocker cover gaskets with their own heated gasket. As a general design philosophy we feel it is safer not to replace parts that were installed by the engine manufacturer, especially critical structural parts like bolts.
---
Main Page | Place an Order | Contact Us | FAQ
Last updated 10/23/09