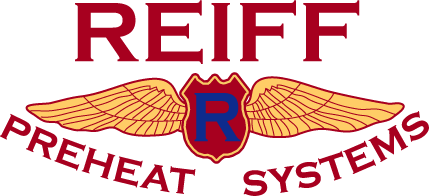 "Long Engine Life Starts With Reiff"
Main Page | Place an Order | Contact Us | FAQ
---
A Few Customer Comments:
All of the following were unsolicited
"We were impressed with the performance of Reiff's HotBand system when combined with a sump heater. When operated overnight on a cold, windy ramp with no cover, this system had our four cylinder Lycoming uniformly warm to the touch. This system is an excellent value and is suitable for very cold conditions." AVIATION CONSUMER, February 1997
-----Original Message-----
From: Flury Aircraft
Sent: Tuesday, December 18, 2007 10:37 AM
To: Sales@ReiffPreheat.com
Subject: A Fine System

To Reiff,

As an FBO in southeastern PA. I'm frequently asked by owners about preheating engines when fall arrives. In the 29 years I have been in general aviation I have installed several types of electric preheaters. I can honestly say that your system is the easiest to install and in my opinion does the best job. The installation is clean, does not interfere with engine analyzer installations and has no heater in the oil sump screen plug, which requires unplugging in order to clean the screen. I have had to replace the sump screen heater on numerous occasions due to wires breaking off at the plug. Unless the owner just has to have something else, Reiff preheaters are the only one's I will sell. So far I have had only positive feedback about your product. Once you install it, it requires little or no maintenance. This is a first class system.

Joe Flury

Owner, Flury's Aircraft Service
Bob Reiff has designed and built a "better mousetrap" in the engine preheating market. His systems are competitively priced, made of high quality materials and are well designed. The two-year

warranty

[now 5 years] and 30-day money back offer are nice touches. It is a pleasure doing business with someone that believed in a concept and took the initiative to bring a product to the aviation marketplace at an

affordable

price.

bty...I am not affiliated with the Reiff company in any way, just a pleased customer.

Joe Young

"The system works great! I have mentioned your system to all I know who are interested and was very impressed with the way it works and how easy it is to install. Wish I had it available years ago! When electricity is available it is the only way to go to preheat and keep the engine warm in very cold conditions like we have here. I fly for the Iditarod Air Force, 25-30 pilot volunteers who are the air logistics for the Iditarod dogsled race. The race runs about 1,050 miles across Alaska. Each of the 68 mushers will have about 75 lbs. of dog food and other supplies for each of the 18 check points along the race route. About 6 of us start flying in late February putting in these remote checkpoints. The race starts March 7 and runs until about the 23rd. While the race is in progress we are busy hauling race officials, such as judges, vets, checkers, etc., picking up dropped dogs from check points, and just about anything else you can think of. Temperatures during the race vary but -10 to -30 F is about normal. If it gets above 0 it is too hot for the dogs and the mushers try to run only at night then. Temperatures can and do drop down to -50 F or even colder, but -35 F is our limit for flight operations. Temperatures below -35 are just too hard on piston aircraft engines. That is about the accepted cut off for all pilots and companies flying piston engine planes up here. Over the years I have used everything you can think of for preheating. In places where we have electricity we get plugged in for continuous heat. Of course, good engine, prop, and spinner covers are a must." R. Russey, Anchorage, Alaska
"I had my plane at the Iditarod dog sled race, and your system worked great at -20oF." R. Sires, Anchorage, Alaska
"Really like the heaters - they work very well even at -30o." Stage Air Ltd., Canada
"You guys have a great product and a good reputation -- now that I'm putting in a new engine it's time to preheat this sucker. Your kit was the only choice." Jeb Burnside, Vice President of NATA (National Air Transportation Association), former Executive Editor of AVweb, former News Editor of Professional Pilot magazine (Note - we have never advertised in any of those publications)
"I need a system for my new Tiger. I had your system and the other brand on previous airplanes and liked yours better. It's a better system." A&P/IA and FAA Inspector
"I will always try to convince my customers to use a Reiff heater rather than [the other brand]... because the [other brand] alternatives are too much money and don't stand up well to the engine environment." Ed Novak, Director of Maintenance, Shoreline Aviation, Marshfield, MA, from Cessna Pilots' Association Magazine
"I had [the other brand] on two other airplanes and both were high maintenance. The probes burned out a lot. I talked to some others about yours and it has a better reputation, so I'm going to put yours on my new Mooney." T.S., Mass.
"We normally quit flying at -32C/-26F in winter with our 180. However, to test your product I went out on a -44F morning (not nice) and was surprised that your Standard System with engine cover and prop covers brought the engine temperature to 59F and oil temperature to 77F. The engine turned easy and fired no problem. PS - I like your no BS approach, and web site." North Service, Canada
"We've used 3 of your systems for several years in our flight school, and they're first class - just excellent." Jim Long Aviation
"Your engine and battery heaters work great on my Husky. I'm very satisfied." L. Cathro
"Our IA recommended you. He installed 3-4 with very good results - very pleased." -U.S. Propeller Service
"We love your cylinder heating system." Sheridan Airport
"I measured my Seneca's engine temperatures with your heaters installed, and got just what you said I'd get. Send me another system for my Pitts." G. Staffeld
"Contrary to what your competitor says, I did not have to remove the baffles on my Continental TSIO-360's to install your cylinder heat system. They were not a problem at all." L. Cardin
"Just a quick note to say that I am very satisfied with your system which I installed on my Piper J-3 cub with a 90 hp engine. It really makes a difference on those cold days. The installation I completed in short order and then had my A&E sign it off. I had no trouble installing the cylinder band heaters. The joke around the airport is that my bird now has an electrical system!" R. Jay
"The heater is an excellent product, a very complete kit with instructions and the very best solution to engine preheat in my opinion. I use it even on warm days due to the beneficial effect of preheating. It is lightweight, easy to install, and cheap, considering the elegant design and manufacture. I have found no down side to it. It is a winner. None of you should be without one! I don't work for Reiff, just highly opinionated and impressed with this product." D. Walsh (posted to RV-List on internet)
"I plug the heater in the night before I fly and throw an old blanket over the cowl, poking part of it in the intakes to trap the heat. Next morning, put your hand in the engine compartment and it is WARM in there. Engine fires on the 3rd/4th blade even on the coldest days. High on the 'Necessary Equipment' list." Michael (posted to RV-List)
"I would like to go on record as being one who has your heaters and have them installed (on a PA-12). I must say that they do an excellent job. With the temperatures we get in the Northeast, it's nice to come out to a warm, easy starting engine. Keep up the good work." Don Champagne (posted to RV-List)
"I have been using your pre-heat system on my Piper L4J (C65 J3) here in Berlin, Germany for two years now. Temperatures fell to -10o C a week ago. I wouldn't have been able to start the engine without the full system (engine cover, sump pad, and cylinder band heaters). I only wish you would come up with some idea on how to heat the pilot." Patrick Villiers via E-mail.
"I have a Reiff heater and have been absolutely delighted with it." S. Buckingham, from Cessna Pilots' Association Magazine
"I thought you might like to know I have used your system (sump and cylinder heaters) on my Skyhawk for 2 Chicago winters with excellent results. It is amazing how effortlessly the engine starts even below 15 degrees F." Allan Goldstein
"Last fall we installed both the HotBand Cylinder Heating System and the HotPad Oil Sump heater on our Cessna 172. Wow - they've been terrific! Our mechanic wasn't sure about them since he'd only installed [the other brand] pre-heat systems but he liked the simplicity of your systems and now he's convinced. Our "baby" ends up being toasty warm when we plug her heating system in - really toasty with overnight heating and very nicely warm when we heat her for even just a couple of hours." Frank & Dorothy Pervanger
"My mechanic said the heaters went on like a charm (and that's from someone who complains about getting out of bed)." Email from Bill
"Just to let you know how impressed I am with my newly installed HotBand engine heater. I purchased the system in October and recently installed them during annual inspection on the O-320 in my Cherokee and what a tremendous difference in cold weather starting. N6910W sits outside at Niagara Falls Airport and the ability to adequately pre-heat using an extension cord is remarkable. Terrific product!" Email from John Huttenlocker, Tonawanda NY
"Thanks for the HotBand and HotPad you shipped me. They are doing a great job on our Piper Archer. Our mechanic reported that installation was very easy. You might also be interested to hear that I have recommended your preheat system to my dad, who owns a Piper Comanche." Email from Brian Wade, Endicott, NY
"The system works great. I have the cylinder and oil sump heaters and after being plugged in overnight, the engine starts like the OAT was 70 degrees and runs smooth. By the time I get to the end of the runway my run-up is smooth and I have oil & CHT temps in the green. Definitely money well spent." Dean W.
"I think your heaters are great. Work super on my Cessna 340 in our severe Wyoming winters." Dr. Brent Blue, owner of Aeromedix
"Got it last night, installed it. Wow, wonderful, easy installation. Great instructions. Thanks much." Email from Bernie Ockuly, Strongsville, OH RV7A, 2/10/05
"The package you sent me arrived, and I have to say that it is the most competently produced, packaged, and explained product I have seen in some time." Email from John Sims 3/7/05
Gentlemen:

This past week, I had called regarding a replacement heater band that I had sent in prior to Christmas. The gentlemen I spoke to said that as of that day, your office had not received the old band.

Later that same day, Debbie called and said that your office had just received the old band, and if it was defective, that your office would be shipping a replacement out the same day. Deep down, I was thinking "yeah, right, I've heard this before."

Well, to my utter amazement, on my front doorstep this past Thursday is a box from Debbie with a replacement band inside.

Thanks is what I'm trying to say. Thanks for a really quick response. Thanks for sending it quickly and most of all, at no charge.

Rarely in today's business world do I find someone or a place of business willing to do what's right and I applaud you for your efforts.

Thanks for making it right and for doing it in an expeditious manner.

In HIS Service,

ron davis
-----Original Message-----
From: Chuck Cahill
Sent: Tuesday, November 27, 2007 5:58 PM
To: Sales@ReiffPreheat.com
Subject: Reiff Turbo XP

I just wanted to thank-you for making such a terrific product! It was easy to install (and Iím no aircraft mechanic) and having used the Turbo XP in combination with a Kennon insulated cowling cover during a few recent cold spells, (27 degree nights) the engine and cowling were very hot to the touch and the aircraft started right up! Since hangars are so costly here in the Northeast, (about $370.00 monthly) we store our aircraft at a tie down, however, with the Turbo XP and aircraft covers I feel confident that winter flying will be problem free.

Thanks again!

Best Regards,

Chuck

Charles H. Cahill Insurance Agency

Duxbury, Massachusetts

---

From: KenW
Sent: Sunday, January 04, 2009 1:41 PM
To: sales@reiffpreheat.com
Subject: Many Thanks for an *Excellent* System!

Hi, Folks:

Just thought that I would send you a quick note to share that I *love* my Reiff Standard engine preheat system that is now installed on my Cessna Skylane... All I do is walk out to the hangar before bedtime the night before I'm going to fly and plug the system in. The next morning the engine compartment is toasty warm and the engine starts like it was a July afternoon. I couldn't be more pleased!

Many thanks and take care,

Ken W.

Fredericksburg, VA

---

From: Robert Hamilton
Sent: Monday, January 18, 2010 5:03 PM
To: Sales@reiffpreheat.com
Subject: Success !!

Good Morning,

As a business owner, I know it's nice to hear positive comments on my products and services - That's what this is.

I ordered a Reiff pre-heat system last fall and installed it right after Thanksgiving. My engine is an IO-550-G in a 2000 Mooney Eagle. Also ordered a Beeper Box.

My aircraft is kept in an insulated but unheated hanger, so it gets cold, but is spared the worst of northern Illinois's winter conditions. (Waukegan Airport)

The only significant problem I encountered was with the Beeper Box - had a hard time finding a telephone ring tone the sensor would recognize. So, at your suggestion, I called Tim Robertson, the developer/manufacturer, and he took care of me. Once he knew my model phone, he built multiple ring tones and e-mailed them to me. I then had one of our office IT Gurus install it in the prepaid cell-phone and it worked wonderfully.

Since then, I've remotely activated the heater 5 times - in all sorts of cold conditions, and it worked flawlessly every time. I let it pre-heat 4 to 6 hours and get 75 degrees Fahrenheit under the cowl blanket (which started life as a very heavy sleeping bag). I live 40 minutes from my hanger, so a remote start is essential.

Engine starts have been first time, every time, on every occasion.


I fly all winter and I'm sure my engine is far healthier than if I used any other method. Actually, I like this system so much, I'll use it spring and fall - anytime the temp is below 45 degrees - why not - it's easy and very cheap insurance against pre-mature wear.

Thanks for your help and for your product

--
Bob Hamilton
Chairman/CEO
Gewalt Hamilton Associates, Inc.

---
[Edited to remove non-relevant info and competitor's name]
From: Patrick Townsend
Sent: Sunday, January 31, 2010 9:56 PM
To: Reiff Preheat
Subject: Info for FBO
Mr. Robert Reiff,

I am contacting you about the possibility of selling your engine preheaters. I will be opening a maintenance shop in Clarion, Iowa in the next couple of months. I have installed both Reiff and [other brand] heaters on aircraft and I have found that not only is your system easier to install, but does not fall apart as with [other brand] systems. For example, the sump heater is installed on the oil suction screen which has to be removed every 50 hours to inspect for contamination, and the terminals will pull right off the wires. It happens every time. Very frustrating as a mechanic as it adds time to repair the part! Being in Northern Iowa, I deal with the cold a lot. Being on a very cold and very windy ramp in north central Iowa can, a lot of times, be colder then Central Minnesota. I would like to be able to stock these systems on my shelf and also install these systems (possibly include traveling to the customer to install them). I look forward to working with you and your fine products.
--
Patrick Townsend
Hawkeye Aero
Clarion, Iowa
---
From: Neal Humphries
Sent: Tuesday, October 07, 2014 3:49 PM
To: 'Reiff Preheat'

Hi
We've been really happy with your product and are happy to show others, especially our latest addition of the GSM switch. Your website presents all your products and information in a nice no BS format…I wish other sites were like yours.
---
From:
Sent: Tuesday, August 4, 2015 7:34 AM
To: Reiff Preheat Systems
Subject: Order
Our university operates a fleet of 31 aircraft currently, mainly consisting of Cessna Aircraft equipped with Lycoming O-235 Series and O/IO-360 Series Engines. Historically, our aircraft have been equipped with [another brand] preheat systems, but due to recent issues we have had with their unreliable redesign of their systems, causing damage to our engines, we are getting away from their systems.
I would like to explain where we started to see issues with [another brand]. Historically, I took over here as Maintenance Manager in 2007. At that time, the fleet was already equipped with [other brand] preheaters. Since this was the case, it made sense at that time to stick with what was already in use instead of switching preheaters. Several years ago, I felt like the level of customer service was very good from [another brand], and their pricing was in line with the other folks in the preheater market. I'm not sure if a new owner took over or what (my thoughts since I was no longer dealing with the same people on the phone, including at that time the owner), but over the last couple of years, the price has gone up significantly. The thinner wire harness is an improvement, but the redesigned heating elements decreased in quality…..
Our real issues started this past January. Our University took delivery of two factory new Piper PA28R Arrows at the tune of almost a half million dollars a copy. We were in the process of installing a new [other brand] preheater on one of these aircraft, and had a kit that substitutes one of the intake flange bolts for the cylinder heaters. When installing the first element, using a calibrated torque wrench, the threads tore out of the #1 cylinder intake flange. I was furious! After closer examination we determined that the threaded portion of the heating element was about half as long as the original bolt. (See attached picture) I called [other brand], and also sent an e-mail and they stood their ground and stated that their engineer determined that their thread engagement was sufficient……They offered no consolation for the damage that just occurred to our brand new aircraft. These heating elements are a redesign, as the original ones which are no longer in production were the same length as the Lycoming bolts. In addition, last month it was found during a routine inspection that this same P/N heating element on another aircraft broke off, and had to be extracted from the cylinder head. After this, I determined that it is now time to get away from [other brand].
Regarding our needs, I anticipate slowly switching over to your product fleet wide. I do not anticipate purchasing from [other brand] any longer, so as we have systems go bad on our current aircraft, we will switch to your product.
---
From: Tom Vitt
Sent: Friday, November 11, 2016 11:19 AM
To: Debbie Reiff
Subject: Turbo XP Order
I could not be happier with my new preheater.
Below is a testimonial I put on a couple forums I visit. Feel free to use if you choose.
Pre Heat
For those of you on the fence about what to use for preheat. I can say from first hand experience that the Reiff Turbo XP system has exceeded my expectations in all aspects. Cost, Installation, performance and cost to operate. Knowing my engine is warm to the core for less than $50 a month and I can go fly on a moments notice is priceless. Here in Alaska it is a rare privilege that my Cherokee gets to live in a hanger over night during the winter months. The Reiff Turbo XP keeps my engine more than warm to the touch and saves the wear and tear I used to get from preheating for a few hours. Warm oil makes a engine start. A warm engine core makes bearings and cylinders last. Two thumbs up and 5 Stars.
Tom Vitt
Big Lake, Ak.
---
Main Page | Place an Order | Contact Us | FAQ
Last updated 11/28/2016