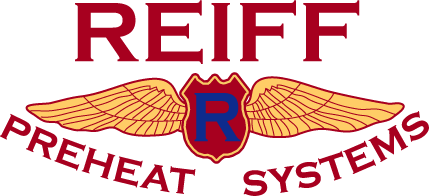 "Long Engine Life Starts With Reiff"
Main Page | Place an Order | Contact Us | FAQ
---
Cabin Heaters
It is a good idea to use a cabin heater in cold weather because it is better for your gyros and avionics to keep them warm and dry. Of course, it's also a lot more comfortable for the pilot to climb into a warm airplane than a cold one. We are sometimes asked to supply cabin heaters... one option is to buy a heater, put our label on it, sell it for $375, and make lots of money. But it's a lot cheaper for the customer to just go to the local Home Depot and buy a small ceramic space heater for about $20. For the past several years we have used a compact unit like the one shown below. It has an adjustable thermostat to maintain whatever cabin temperature you want, and has safety switches to shut it off if it overheats or tips over. We place this heater on the floor of the rear baggage area and run the power cord out the door (it's flat so the door closes on it easily). This type of heater is small and light so it can be left in the airplane when you travel, but is not installed in the aircraft so does not require any FAA approval.

Another option for cabin heating is a heated floor mat. A competitor sells a pair of these for $475, but they are available on-line from other sources for only $50-60 each, for example ... http://cozywinters.com/shop/tfw.html

The bottom line is, we don't want to push a high priced heater on our customers when a mass produced, inexpensive unit is readily available and will work just as well.

About Ceramic Heaters

These heaters have an element with ceramic plates and aluminum baffles. Electricity passing through the ceramic heats it up; the heat is absorbed by the aluminum and a fan blows the hot air around the aluminum out into the room. Ceramic elements are compact, safer and more efficient than other elements because they self-regulate the electricity flow depending on temperature, thereby preventing overheat situations.

There are many suitable ceramic heaters on the market, but this is the one we use. The low wattage setting is enough to keep a Cherokee cabin warm.
FEATURES

- Two Settings: 1000/1500 Watts
- Ceramic Fin Heating System
- Automatic Adjustable Thermostat
- Overheat Protection Device
- Dust Filter
- Cord Storage Compartment


SPECIFICATIONS

LxWxH: 7" x 6.5" x 7"

Weight: 4 lbs.


Power: 110-120V/60Hz

---
Main Page | Place an Order | Contact Us | FAQ
Updated 1/11/09