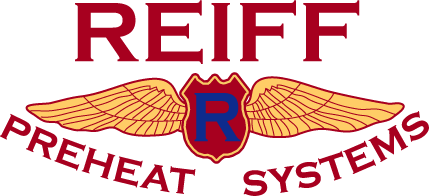 "Long Engine Life Starts With Reiff"
Main Page | Place an Order | Contact Us | FAQ
---
Cirrus Owners & Pilots
Many of our customers are Cirrus owners or Cirrus Service Centers. Here is a quickie comparison of the systems we offer for SR-20 and SR-22, compared to the competitor's system.

| | | | |
| --- | --- | --- | --- |
| | PRICE | WATTS | WARRANTY |
| Reiff Standard System | $630 | 400 | 5 years |
| Reiff Turbo System | $730 | 500 | 5 years |
| Reiff Turbo XP System | $830 | 800 | 5 years |
| Other Brand's system | | 460 | 3 years |

Note the other brand uses a cylinder heating element consisting of a hollow bolt with a heating element bonded into the shank. This hollow bolt heater replaces the solid shank intake manifold bolts installed by the engine manufacturer. If this hollow bolt fractures, air can be sucked in past the intake manifold flange and cause the cylinder to run lean, and possibly damage it. In contrast, our system is non-invasive. We feel it is safer not to replace any OEM parts with our parts, especially structural parts like bolts. We use a band heater clamped around each cylinder. On the oil sump, they use a silicone pad heating element bonded to the sump. We use a more durable aluminum heating element epoxied to the oil sump.

After the warranty expires, they charge about 3x more than we do for replacement parts. For example, we charge $55 for a replacement cylinder heating element, they charge up to $170.

For a more detailed comparison, go here... How Do We Compare to the Other Brand?

So, with the clear advantages we offer you may be wondering why Cirrus only offers the other brand as a factory installed option. In 2007 Cirrus asked us and the other brand for a proposal to become their "partner" for preheat systems. Based on the volume they were projecting (which turned out to be substantially overstated) we offered them an aggressive discount off our retail price, which was already about 40% less than the other brand's retail price. Cirrus chose the other brand, and told us they made their decision based on "economic reasons".

Not long after that a gentleman stopped by our booth at Oshkosh. He said he was the other brand's Director of Marketing at the time the proposal was given to Cirrus. He said the owner (not the current owner) decided to sell their systems to Cirrus for cost because he wanted the "prestige" of being a Cirrus supplier, and they make up for it down the road by selling the aircraft owners replacement parts at a high markup. He and another key employee became "former" employees because they were adamantly opposed to the proposal they gave Cirrus.

Since we don't sell very many replacement parts, and charge a lot less for them than the other brand, we are not willing to give away our systems to Cirrus for cost.

More importantly, we do not view replacement parts as a profit center. We view an order for a replacement part as an undesirable event, because it means our product FAILED. Our goal is to never have to ship a replacement part.

We suggest that anyone who is ordering a new Cirrus and wants it equipped with an engine preheat system, DO NOT ORDER IT FROM CIRRUS. Instead, tell them you prefer a REIFF system, and then ask your Cirrus Service Center or A&P to install our system for you. It will cost a lot less than the $1,490 factory option, and you will end up with a better and safer system, with nearly twice the warranty, and long term maintenance costs will be much less.
Last updated 3/27/2017